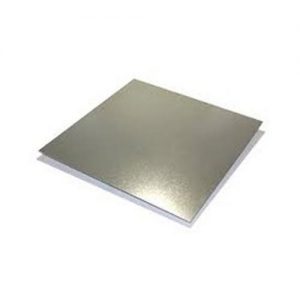 Electro Galvanized Steel Sheet
Our Electro Galvanized Steel Sheets are chemically treated and chromate-free that are particularly environmentally friendly. Utilising the electroplating method, it has outstanding processing properties. However, its thin plating makes it not as resistant to corrosion as that of hot galvanised steel sheet.
Electrogalvanized Steel offers superior surface quality, excellent corrosion resistance, outstanding formability and paintability for exposed applications.
Galvanised steel sheets, also known as galvanised plates, are mild steel sheets that have been coated with a protective zinc coating to prevent corrosion and increase surface hardness. Galvanized steel sheets withstand corrosion better than untreated steel and are more resistant to the elements. The formability and machinability of galvanized steel sheet are outstanding. Galvanized steel sheet is used in the general fabrication, automotive, and construction industries to cover vast areas with high protective properties.
Electro-Galvanized Sheet (EG)
Specification/Standard: SECC JIS G3313
Thickness
0.5mm – 3.0mm
Size
4ft x 8ft , 4ft x 10ft , 5ft x 10ft
ELECTROGALVANIZED STEEL SHEET APPLICATIONS:
This product come with good paintability, weldability and workability, good resistance to corrosion which is extensively used in automotive parts, electrical and home appliances (switchboard, computer, DVD casing, audio and etc.), architectural, office equipment and others.
HiMetal Enterprise Pte Ltd,

99 Tuas South Ave 2,
Singapore 637227
Phone : +65 6887 9688
Fax : +65 6268 6737
Email : enquiry@himetal.com.sg
(for sales and job opportunities)
Phone : +65 6887 9688
Fax : +65 6268 6737
Email : enquiry@himetal.com.sg
(for sales and job opportunities)