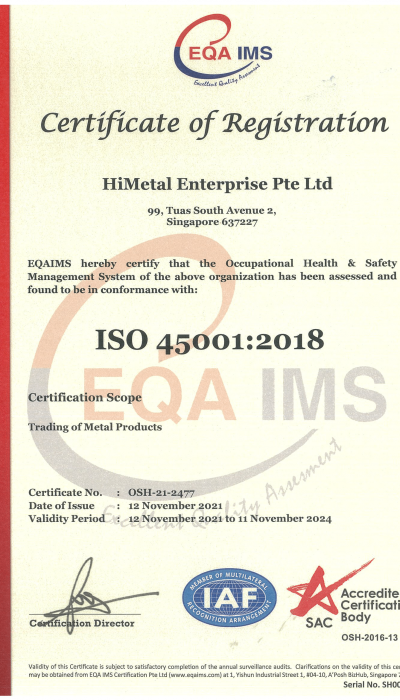 Occupational Safety and Health
We are committed to the health and safety of our employees, contractors, and customers.
With a robust health and safety management system, we are able to provide safe and healthy workplaces by preventing work-related injury and ill health, as well as by proactively improving our occupational health and safety performance.
We are committed to meet our customers' expectations through consistent, good-quality products and services.
An effective quality management system will enable us to improve the quality of our products and services through our strong customer focus and drive for continual improvement, ensuring customer satisfaction.
bizSAFE further highlights our commitment to reinforce a safer and healthier working environment, including SGSecure elements to help manage potential terror threats. The certification also enables us to participate in larger government or commercial related projects, increasing our competitive advantage.
HiMetal Enterprise Pte Ltd,

99 Tuas South Ave 2,
Singapore 637227
Phone : +65 6887 9688
Fax : +65 6268 6737
Email : enquiry@himetal.com.sg
(for sales and job opportunities)
Phone : +65 6887 9688
Fax : +65 6268 6737
Email : enquiry@himetal.com.sg
(for sales and job opportunities)